5 recipes to celebrate British Tomato Fortnight
Posted: 24 May 21
It's British Tomato Fortnight and we are lucky enough at Farndon Fields to stock a whole range of British tomatoes with many sourced directly from the Isle of Wight - the sunniest place in Britain to grow tomatoes. From cocktail tomatoes to Zebra tomatoes, we've got quite a few we bet you haven't seen before.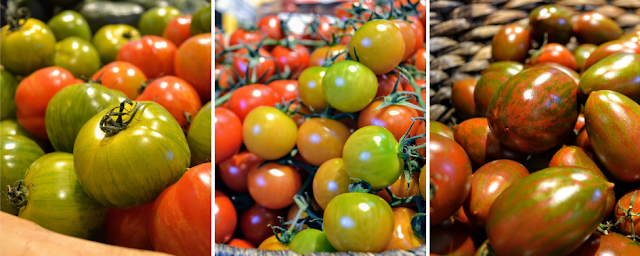 But other than squashing down into a tomato sauce, how can you turn these fantastic tomatoes into a dish to impress? Well, that's where we're here to help! We've compiled 5 of our favourite tomato recipes which will make the most of all the different types of fantastic British tomatoes.
Plum Tomato and Halloumi Skewers with Pesto
If you haven't mixed tomatoes and halloumi before then you've been missing out big time! This is a tasty meat alternative and tastes even better when you use all of the colourful tomatoes we've got at Farndon Fields. If you're short on time then replacing it with a pre-made pesto such as the one made from the Lincolnshire drizzle company will work just as well.
Check out the recipe on our website here.
Pasta with raw tomato sauce
British tomatoes have such a fantastic flavour, to cook them it sometimes feels like such a shame. So that's why we love this recipe which has a 'raw' tomato sauce. Tabasco adds a real kick and the salt brings out the natural flavour of the cherry tomatoes.
Check out the recipe on our website here.
Cod, cherry tomato and green olive tray roast
This quick and easy recipe will become a firm favorite in any tomato-loving household. Despite only taking 40 minutes to cook, it looks super impressive when served. The recipe calls for cherry tomatoes, but the mix of Parma ham and parsley really complements their sweetness.
Check out the recipe on our website here.
Tomato tarts with roasted garlic and goat's cheese
These tarts look particularly impressive when using a variety of different tomatoes, so mix in Zebra and Tigerella tomatoes to add colour and impress your friends.
Check out the recipe on our website here.
Tomato Carpaccio
Now, this isn't your ordinary kind of tomato recipe. Jamie Oliver has used raspberries to contrast the flavour of the tomatoes. This definitely is a recipe you have to try! Yes, it sounds unusual but trust us, the mix of flavours just works.