Turkey and Ham Pie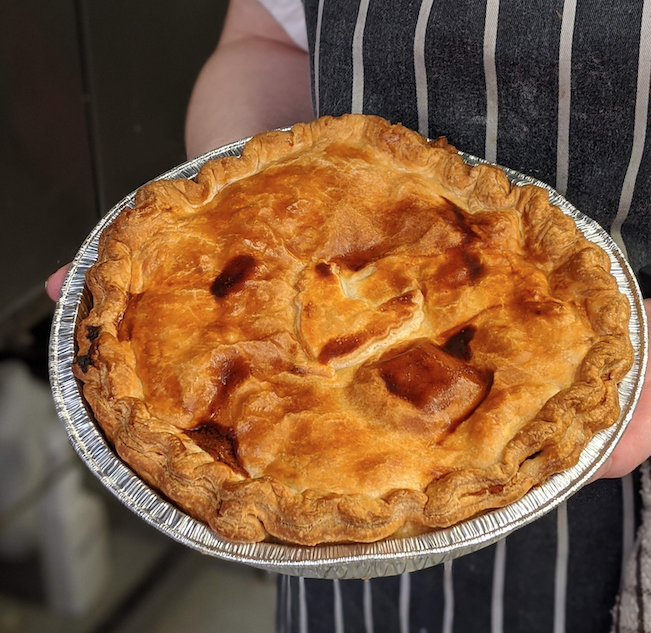 Use up your leftovers with this hearty turkey and ham pie, use shop-bought pastry for a quick and delicious dinner. We love this recipe as a boxing day treat and find its a real crowd pleaser! You can even change it to whatever you've got left in the fridge by adding cooked veg or swapping the ham for gammon or bacon.
Ingredients:
75g butter

2 leeks

75g plain flour

200ml turkey or chicken stock

250ml double cream

3 tbsp wholegrain mustard

1 tbsp chopped tarragon

Ready-Made Shortcrust pastry
Method:
First, make the sauce. Heat the butter in a saucepan, add the leeks and thyme and cook very gently for 10-15 mins until soft but not coloured. Stir in the flour and cook to a sandy paste. Pour in the stock and bring to the boil, then add the cream and simmer until you have a thick sauce. Stir through the mustard, tarragon and chopped turkey, turn off the heat and leave to cool. Set aside. Can be made a day ahead.

Cut just over a third of the pastry and cover while you roll out the rest to line an oiled 20cm springform tin, leaving an overhang.

Layer some sliced ham or turkey on the bottom, then spoon and spread over a thin layer of sauce and repeat the layers until you get to the top of the tin, finishing with a final layer of meat, then press down gently. Cut away another small ball of pastry from the remaining third. Roll out the larger piece until big enough to cover the pie with an overhang. Brush the edge of the pie with egg yolk, then lift on the pastry lid and press the edges to seal before trimming. Crimp all the way around. Cut a little hole in the middle of the pastry to let steam escape. Brush all over with more yolk and use the last bit of pastry to decorate the top. Can be prepared a day ahead and chilled until ready to cook.

When you're ready to bake, heat oven to 200C/180C fan/gas 6 with a baking sheet in it. Set the pie on the hot sheet and bake for 45-50 mins. Leave until warm, remove from the tin and cut into thick wedges.