Eton Mess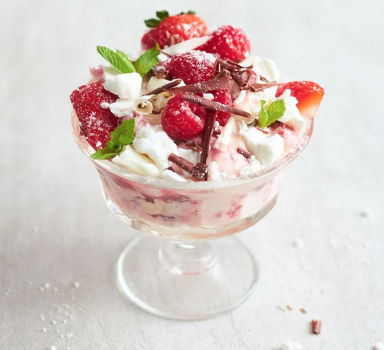 Ingredients:
300 g fresh strawberries

150 g fresh raspberries

½ tablespoon runny honey

100 g double cream

100 g low-fat Greek-style yoghurt

100 g Farndon Fields meringues
Method:
Halve or quarter any large strawberries and place in a large bowl with the raspberries. Use a fork to crush half of the berries and drizzle over the honey.

Whip the cream until soft peaks form, then fold in the yoghurt.

Crumble the meringues over the fruit, then fold in the cream and yoghurt mixture. Divide up into 6 individual bowls and serve straightaway, topped with extra berries, if you like.
Recipe from: Jamie Oliver