The perfect roast potato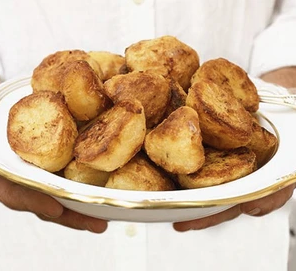 Ingredients
16 Farndon Fields potatoes

2 tbsp plain flour

140g goose fat or duck fat or dripping

3 tbsp sunflower oil or vegetable oil
Method
Heat oven to 190C/fan 170C/gas 5. Peel the potatoes and cut in half; if very large, cut into quarters, or leave whole if they are small. Tip into a saucepan, cover with cold water, then bring to the boil. Set the timer and boil for exactly 2 mins. Drain the potatoes well, then toss in the colander to fluff up their surfaces, sprinkling over the flour as you go.
Place a large, sturdy roasting tray over a fairly high heat, then tip in the fat and oil. When sizzling, lower in the potatoes carefully, then gently brown in the hot fat for about 5 mins so all the sides are covered with oil.
Roast undisturbed for 20 mins, then remove from the oven and gently turn them over with a fish slice. Place the tray on the hob to heat the oil, then return to the oven and cook for another 20 mins. Turn again, putting the tray back on the hob to heat the oil. Give them a final 20 mins in the oven, by which time you should have perfect roast potatoes.
Recipe source: https://www.bbcgoodfood.com/recipes/perfect-roast-potatoes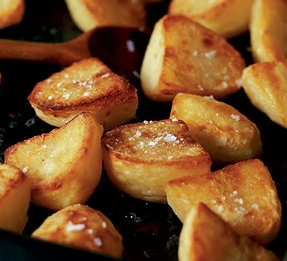 Put a roasting tin in the oven (one big enough to take the potatoes in a single layer) and heat oven to 200C/fan 180C/gas 6.

Peel 1kg potatoes and cut each into 4 even-sized pieces if they are medium size, 2-3 if smaller (5cm pieces).

Drop the potatoes into a large pan and pour in enough water to barely cover them.

Add salt, then wait for the water to boil. As soon as the water reaches a full rolling boil, lower the heat, put your timer on and simmer the potatoes uncovered, reasonably vigorously, for 2 mins.

Meanwhile, put 100g duck or goose fat or 100ml olive oil into the hot roasting tin and heat it in the oven for a few minutes, so it's really hot.

Drain the potatoes in a colander, then shake the colander back and forth a few times to fluff up the outsides.

Sprinkle with 2 tsp flour and give another shake or two so they are evenly and thinly coated.

Carefully put the potatoes into the hot fat – they will sizzle as they go in – then turn and roll them around so they are coated all over.

Spread them in a single layer making sure they have plenty of room.

Roast the potatoes for 15 mins, then take them out of the oven and turn them over.

Roast for another 15 mins and turn them over again. Put them back in the oven for another 10-20 mins, or however long it takes to get them really golden and crisp. The colouring will be uneven, which is what you want.

Scatter with the sea salt flakes and serve straightaway.
Recipe from: https://www.bbcgoodfood.com/recipes/ultimate-roast-potatoes