Recipe: Cheddar quiche with smoked bacon, onion and roasted red pepper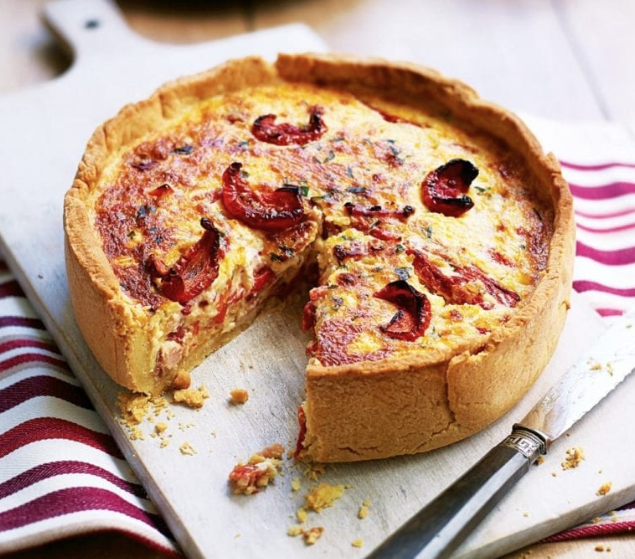 Ingredients
600g block shortcrust pastry

Plain flour, for dusting

2 tbsp olive oil

1 large onion, roughly chopped

12 rashers smoked bacon, sliced into lardons

6 large free-range eggs, lightly beaten

300ml double cream

1 tbsp Dijon mustard

125g mature Cheddar, grated

190g jar roasted red peppers, drained and sliced into strips

75g semi-dried tomatoes, chopped, plus

a handful whole ones, reserved, to decorate

Bunch fresh flatleaf parsley, leaves chopped
Method:
Preheat a baking sheet in the oven to 220°C/fan200°C/gas 7. Roll the pastry out on a lightly floured surface and use to line a 23cm round loose-bottomed cake tin. Trim any excess pastry, prick the base all over with a fork and pop in the freezer for 30 minutes.

Line the pastry case with baking paper and baking beans or rice, and bake on the sheet for 15 minutes, then remove the paper and beans, and bake for 5-10 minutes more until crisp and golden. Remove from the oven and turn the temperature to 180°C/fan160°C/gas 4.

Meanwhile, cook the onion in the oil in a large frying pan over a low heat for 10 minutes. Remove with a slotted spoon to a bowl. Increase the heat, add the bacon and fry until crisp. Set aside with the onion. In a bowl, mix the eggs, cream, mustard and Cheddar and season well.

Scatter the onion, bacon, peppers and chopped tomatoes over the tart case. Pour over the Cheddar cream and sprinkle with the parsley. Dot with the whole tomatoes. Bake for 50 minutes until golden brown. If it browns too quickly, cover with foil. Remove from the oven, cool a little, then remove from the tin.

Cool on a wire rack, then freeze, wrapped in baking paper and cling film.

Defrost overnight in the fridge, put on a baking tray and cover with foil. Warm in the oven for 20 minutes at 180°C/fan160°C/gas .