Sauteed Sprouting Broccoli with Mushroom & Stilton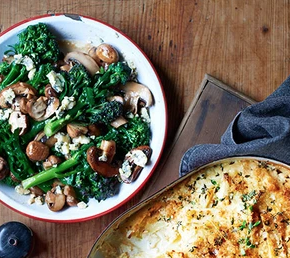 Ingredients
500g Farndon Fields purple sprouting broccoli, ends and larger stalks trimmed

1 tbsp olive oil

knob of butter

500g chestnut mushrooms, halved or quartered if very large

50g creamy stilton (or vegetarian alternative), crumbled or chopped

Drizzle of extra virgin olive oil (optional)
Method
1.Bring a large pan of water to the boil, then add the broccoli. Boil for about 3 mins until bright green but not quite tender, then remove and cool under cold water. Drain well. Can be done up to a day ahead and kept covered in the fridge.
2.Combine the oil and butter in a large frying pan over a high heat. Once the butter is sizzling, add the mushrooms. Fry for 5 mins, stirring often, until golden.
3.Add the broccoli to the pan and toss together with the mushrooms. Cover the pan and cook for another 3 mins, shaking the pan now and again, until the broccoli stems are heated through and the mushrooms softened. Season well, then tip into a serving bowl, scatter with the cheese and drizzle with the oil, if you like.
Recipe source:https://www.bbcgoodfood.com/recipes/sauteed-sprouting-broccoli-mushrooms-stilton