Recipe: Asparagus with peas, mint & Jersey Royals in wild garlic butter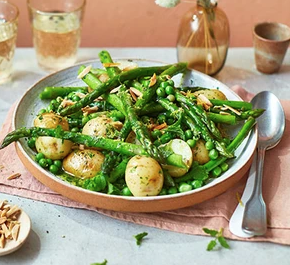 Ingredients:
300g Jersey Royal potatoes

handful slivered almonds

75g softened butter

small handful wild garlic leaves, very finely chopped (or 1 crushed garlic clove)

1 tbsp mint leaves

250g freshly podded peas

drizzle olive oil, for frying

1/2½ lemon, zested and juiced

A bunch of asparagus spears
Method:
Bring a large pan of water to the boil and cook the potatoes for 8-10 mins or until tender. Drain.

Toast the slivered almonds in a dry frying pan until golden. Set aside.

Mix together the butter, wild garlic leaves and mint (you can blitz in a food processor, if you like). Set aside.

Cover the peas with boiling water for 30 seconds, then drain and immediately plunge into cold water.

Heat the olive oil in a large lidded saucepan over a medium heat. Add the asparagus spears and a good pinch of sea salt and shake to coat in the oil. Put the lid on and cook the asparagus over a low to medium heat, shaking the pan to move the spears around, about 4 mins. Remove the spears from the pan and immediately plunge into iced water.

Melt the garlic butter in the pan and squeeze in the juice of the lemon. Stir the potatoes, asparagus and peas into the butter untiul warm. Tip everything onto a serving dish and grate over some lemon zest. Top with the toasted almonds.
Recipe from: BBC Good Food