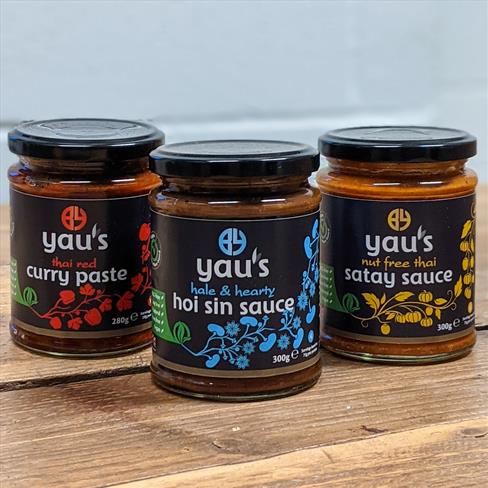 Yau's Oriental Sauces
Currently in the farm shop we have:
Hoi Sin Sauce (GF & VE): A rich Chinese barbecue-style sauce that's as good for stir-frying and marinating.
Thai Green Curry Paste (GF & VE): Distinctively flavoured, Yau's Thai Green Curry Pastes combines green chillies and peppers with a traditional mix of Thai herbs and spices
Thai Red Curry Paste (GF & VE): Authentically Thai and packed with traditional flavours. Yau's Thai Red Curry Paste is suitably spicy, yet tastes fresh and intense
Mild Chinese Curry Sauce (GF & VE): An indulgent sauce which can be used as a marinade for chicken or turn into a lovely pourable sauce by adding natural yoghurt, creme fraiche or stock.

Fragrant Sweet & Sour Sauce

Nut-Free Thai Satay Sauce (GF & VE): Made from organic pumpkin seeds, not peanuts. It's light, packed with fresh flavours and has a nuttiness you simply won't believe.
Available to buy in the farm shop or order using our telephone ordering service.
Price: £POA