Our Takeaway Roast Dinner Boxes are back!
Posted: 11 January 21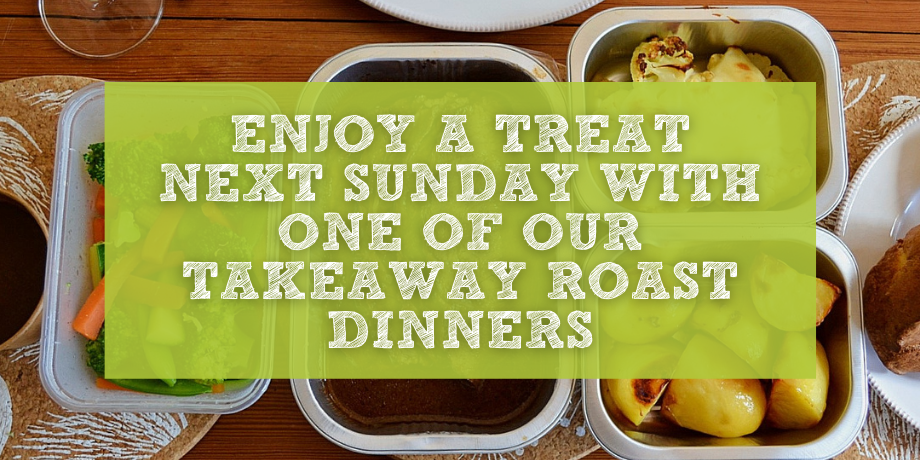 Back by popular demand, our takeaway Roast Dinner boxes!
Our roast dinners are freshly cooked by our chefs using local ingredients. We'll get it ready for you so you can serve up a fantastic roast dinner at home following a few simple reheating instructions. Pre-order to collect from Farndon Fields on Sundays 11 am - 1 pm.
The menu changes each week so make sure to check every Monday to see what we have on the menu for Sunday and see if we can tempt you. We've had fantastic feedback which we thought we'd take the opportunity to share:
"We had a wonderful lunch today. Our daughter bought it for us as a treat, a lovely surprise. We really enjoyed it."

"It was delicious. The beef was extremely tender and the sticky toffee pudding was excellent. We hope to try other dinners in the future."

"Beef and pork were delicious, vegetables were cooked to perfection as for the size of the Yorkshire pud! The sweets were also amazing. Well done everyone, the instructions for reheating were very good, and no washing up. Definitely will order again."



How to order
Please give us a call on 01858 464838 to place your order. Make sure to place your order before Thursday at 2pm.
We have collection time slots: 11 - 11.30am | 11.30 - 12.00pm | 12.00 - 12.30pm | 12.30 - 1.00pm
We will take payment over the phone when you place your order.
We are taking orders one week at a time, the following week's roast dinner menu and ordering will open on the following Monday.
How to collect
Please arrive within your chosen collection slot and pull into the Drive-Thru in the car park.
Say hello to the team member at the Drive-Thru, we'll then bring your order to your car.
Simple re-heating instructions will be included with your order.