Recipe: Honey roast carrots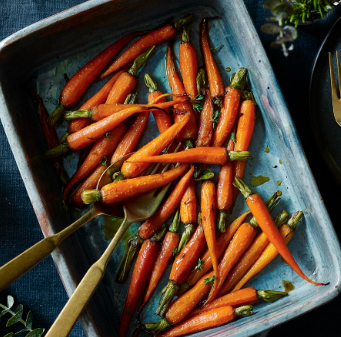 Ingredients:
1 kg/2lb 4oz small carrots

2 tbsp olive oil

3 tbsp clear honey

1 tbsp fresh lemon juice

3–4 sprigs fresh thyme

salt and freshly ground black pepper
Method:
Preheat the oven to 200C/ 180C Fan/Gas 6. Trim the carrots and peel, if you prefer. Cut any particularly large carrots in half lengthways.

Place on a large baking tray and pour over the olive oil. Season with salt and pepper, toss well and roast for 15–25 minutes, or until almost tender and lightly browned. (The time will depend on how thick the carrots are.) Whisk the honey and lemon juice together.

Take the tin out of the oven and drizzle over the honey and lemon mixture. Pick the thyme leaves off the sprigs and scatter over. Toss lightly and return to the oven for a further 8–10 minutes, or until the carrots are tender and glossy.

Recipe from: https://www.bbc.co.uk/food/recipes/honey_roast_carrots_07540