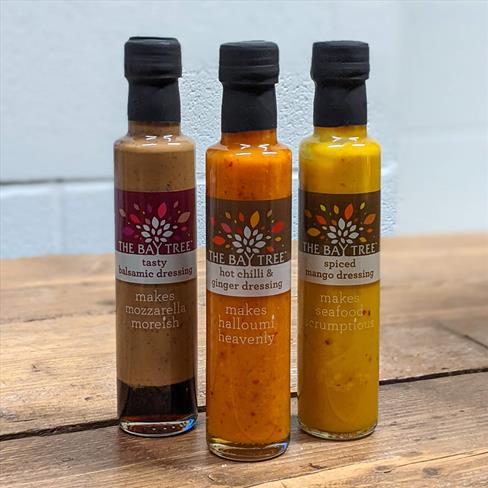 Bay Tree Salad Dressings
Currently in the farm shop we have:
Spiced Mango Dressing: A slightly sweet and spicy marinade or dressing for chicken, vegetables and fish both hot and cold.
Creamy Caesar Dressing: All you need is a green salad and some croutons and there you have a perfect Caesar salad!
Pomegranate Dressing: An outstanding dressing for all salads when you want something really special.
Balsamic Dressing: A delicate but rich dressing to pour over all types of salad or vegetables.
Lemon & Cracked Pepper Dressing: Perfect on chicken salads or poured over asparagus for a simple starter.
Summer Herb Dressing: Serve over hot or cold chicken, salads and rice.
Hot Chilli & Ginger Dressing (V): A perfect balance of chilli and ginger, great drizzled over a chicken salad or use it as a stir fry sauce.
Available to buy in the farm shop or order using our telephone ordering service.
Price: £POA